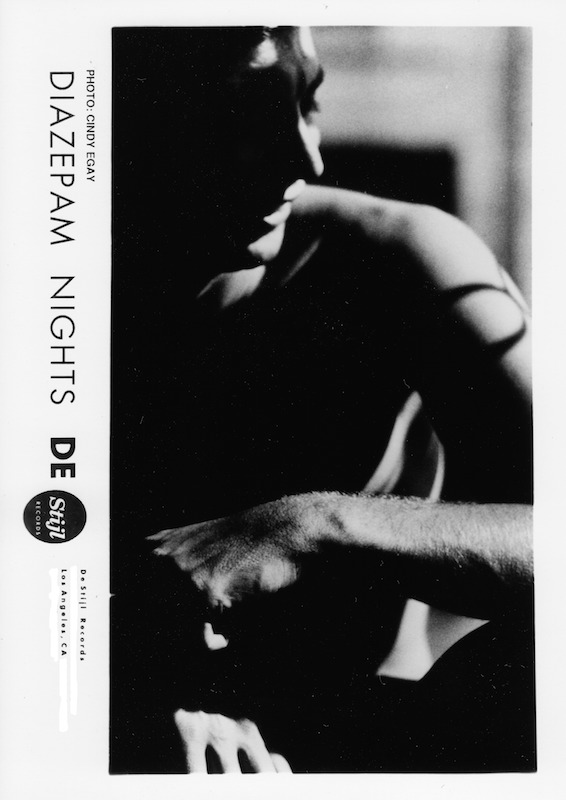 Photos by Cindy Egay (1989)
Diazepam Nights
Diazepam Nights is a 1989 Los Angeles new wave queercore album. While eponymously titled, it is the first major solo work of composer/producer Jack Curtis Dubowsky.
Diazepam Nights was released December 19, 1989 at the dawn of the 90s DIY zine culture explosion, produced largely in isolation with few precedents save Tom Robinson and the Communards. Reviewers compared the album to Tears for Fears, especially its dark moods reminiscent of The Hurting. Dubowsky recorded the album in a small 24-track studio in Van Nuys where he began his career as a recording engineer. The final track, "Lift Up Our Wings," was finished at Enterprise Studios in Burbank, where Dubowsky worked with acts including Kiss, Megadeth, and Warrant.
Diazepam Nights played shows in Los Angeles and San Francisco. Dubowsky, attending Berlin Independence Days 1990, did a Diazepam Nights interview on national East German radio station DT 64.
Cash Box Magazine described Diazepam Nights:
This first offering from the L.A.-based indie label is a moody, introspective affair about longing and heartbreak… Couched between facile observation and cliché is true insight. Side by side with adolescent stabs at poetry is the real thing… The production is crisp, easily standing toe to toe with anything coming from the majors, and the main impression left is that this is an outfit overflowing with promise. There is a lot of talent here, it simply needs to be reigned in and given sharper focus. (Ernest Hardy, Cash Box Magazine, p.18, March 24, 1990)
Jim Fouratt wrote in Bay Area Reporter:
Jack Curtis Dubowsky stakes his claim as his queer generation's musical Orson Welles. Here the coming-out persona is post-Bowie (the Low period) and post-Eno (the music-for-airports era), adrift in a wall-broken Berlin soundscape. (Jim Fouratt, Bay Area Reporter, p.29, January 9, 1992)
The album featured Dubowsky's friends including drummer Bernie Lopez and guitarist Jory Kahn. Recalls Dubowsky, "The recording was all analog 24-track. The studio in Van Nuys did not have automation, so those tracks were mixed very old school, even for 1989. All the moves were made by hand as the mixes were recorded to quarter inch tape. When I mixed in sections, those sections would be spliced together to make the final master. At Enterprise I had Flying Faders, so that was a very modern mix to half inch tape."
In the early 90s, Jack composed music for dance concerts, produced the Duchampians 12" single "In the Guise of Love" (co-written with architect Eric Kahn), and played guitar on Robbie D's debut album The Fertile Boy. Jack would also devote energy to a new project, Helot Revolt, which would garner far more publicity and notoriety.
Diazepam Nights is an important addition to collections of Los Angeles indie music, early queercore, and private press new wave. Original master tapes, photographs, negatives, lyrics, album artwork, flyers, correspondence, documentation, and ephermera are held in the Jack Curtis Dubowsky Papers in Special Collections at the Oviatt Library at California State University, Northridge.
Diazepam Nights
Spotify | Apple Music | Amazon | Bandcamp |