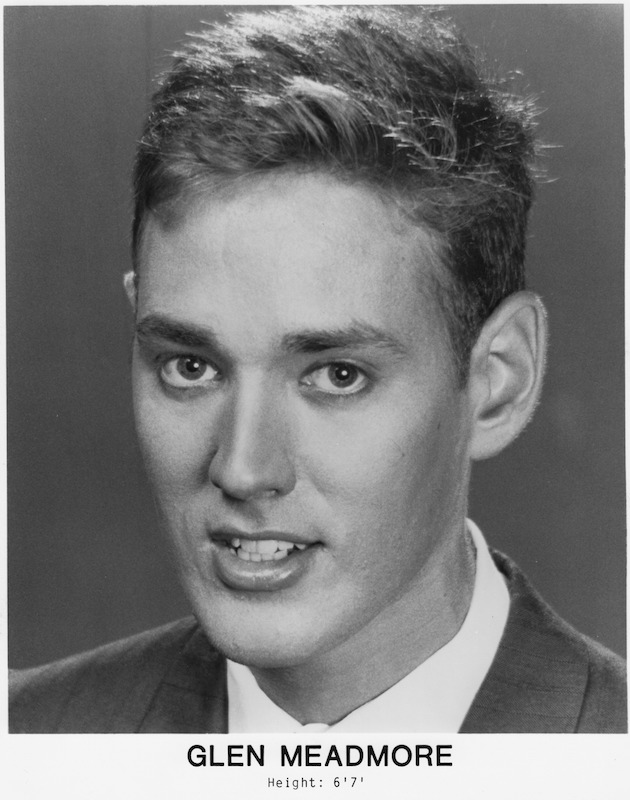 Glen Meadmore : Hot, Horny & Born Again
Glen Meadmore is a legendary queer cowpunk and performance artist. Born in Winnipeg, Canada, Glen came to Los Angeles and joined the burgeoning performance art and avant-garde community that revolved around the Anti-Club, Club Lhasa, and Jim Van Tyne's Theoretical parties. Nearly 6'8" tall, the statuesque Meadmore towered above others, and incorporated music, drag, and audience interaction into his act. He collaborated with Vaginal Creme Davis in the band Pedro Muriel and Esther.
Glen was arrested February 3, 1989 in Santa Barbara for obscenity related to a performance at the University of California, Santa Barbara (UCSB) during Gay Awareness Week. He was charged with indecent exposure, but this was reduced to Disorderly Conduct pertaining to "Lewd and Dissolute Behavior." During the 1980s, many queer performance artists were prosecuted for their work and had grants taken away. Glen's case went to trial. Glen, represented by Public Defender Rick Barron, was found not guilty.
Glen signed to Amoeba Records in Los Angeles. His first two LPs, Chicken & Biscuits (1988) and Squaw Bread (1989) merged queerness, countrified yee-haw yodeling, and electronic grooves. "Do Me" from the first LP was a club hit, remixed by Psychic TV and re-released on WaxTrax! Records. For his next album, Boned (1991), Glen assembled a live band and put forth a punkier sound, leading to his cowpunk reputation. The band included Dean Opseth on bass and Dave Kendrick (Sparks, Devo) on drums.
Producer Jack Curtis Dubowsky was a huge fan of Glen's, and even go-go danced with the band at a performance at Woody's Hyperion in Silverlake. ("That's when we met," says Glen.) Dubowsky would produce Glen's next album, working to improve the musicianship and performances. Says Dubowsky, "Boned was really raw and shrill and didn't really do justice to the band. I wanted to help Glen make an album that was in tune, in time, and really tight and punchy, and to take Glen to the next level." The new album, Hot Horny & Born Again, was recorded and mixed in San Francisco in 1993. Dubowsky brought bales of hay into Hyde Street Studio A for the recording, much to the consternation of the studio owner.
Hot Horny & Born Again was not released until 1998 on Pervertidora Records, due to difficulty finding a new label after Amoeba. (Glen's following album, Cowboy Songs for Little Hustlers, produced by Steve Albini, was similarly delayed, recorded in 1998 and released in 2002.) Hot Horny & Born Again has a cover portrait of Glen painted by serial killer John Wayne Gacy, and interior booklet art by Mark Mothersbaugh of Devo. Three songs from the album, "Glory Hole," "Let Me Turn You Out," and "Blow You," appear in Hustler White (1996) directed by Rick Castro and Bruce LaBruce.
Hot Horny & Born Again set a new standard for Glen's work, a refinement and culmination of his style. Glen continues to tour and perform as a three piece with Dean and Dave.
Get Hot Horny & Born Again on iTunes, CDBaby, or Amazon
Press Reviews and Clippings